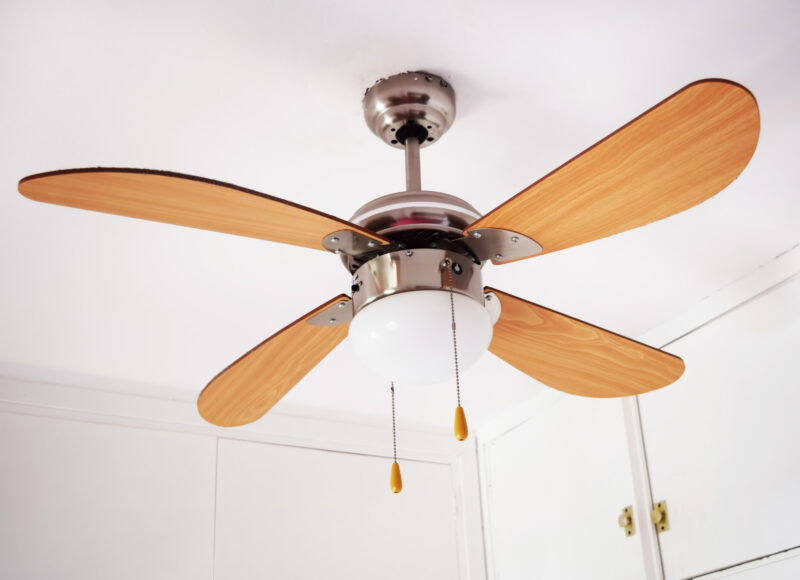 Ceiling fans are a godsend in the sweltering heat. While they don't cool like air conditioning units, they circulate stuffy air to make your space more tolerable in the summer.
Before buying one for your home, you need to learn how to choose a ceiling fan. There are several key features to consider to ensure your new fan will operate the way you hope it to.
Keep reading to find everything you need to consider before buying a ceiling fan.
Size
Ceiling fans come in different sizes so be sure to choose one that's appropriate for the room you're putting it in. You'll get the best performance by choosing the right ceiling fan size.
Very small rooms, like bathrooms, may only need fans around 29-inches. When it comes spaces like a medium size room, you'll want to choose between 36-inches and 42-inches for the blade span. Your master bedroom may need a fan closer to 50-inches to work efficiently.
If you're looking to circulate air in a room over 400 square feet, look for fans with blade spans over 54-inches.
You should also consider the height of the room you're installing your new fan in. Spaces with lower ceilings will need flush-mount models for adequate safety.
Most fans come with four or five blades, but it's not unheard of to find options with more. Don't be fooled into thinking that more blades equals more cooling power. Three blades tend to be the most efficient, but four or five operate quieter and are nicer to look at. 
Control Options
The next factor to consider is how you want to control the fan's speed and direction.
Do you want to be able to adjust the fan from anywhere in the room? If so, you should buy one that comes with a remote control.
If you're okay with sacrificing convenience, you might consider a wall-controlled option. These fans have the controller built into your wall, most likely near the light switch.
If you prefer to go old school, you can still find pull chain models at most stores. These fans feature two or three pull chains that you'll use to adjust the speed, direction, and even the lighting.
Energy Efficiency
Going green at home is one of the best things you can do to ensure you're living sustainably. Fans are a great way to reduce your carbon footprint and are much more affordable to run than an air conditioning unit. Plus, fans don't use ozone-depleting substances like refrigerants like AC units do.
If you're looking to cool your home and stay green, look for environmentally friendly options. Check out the Energy Star ratings and determine the power consumption of the fans you're interested in.
Buying a Ceiling Fan Made Easy
A ceiling fan will make your life so much easier in the stuffy summer heat. Now that you know the ins and outs of buying a ceiling fan, it's time to get to the store to make your purchase.
Keep reading our blogs for more advice for homeowners.