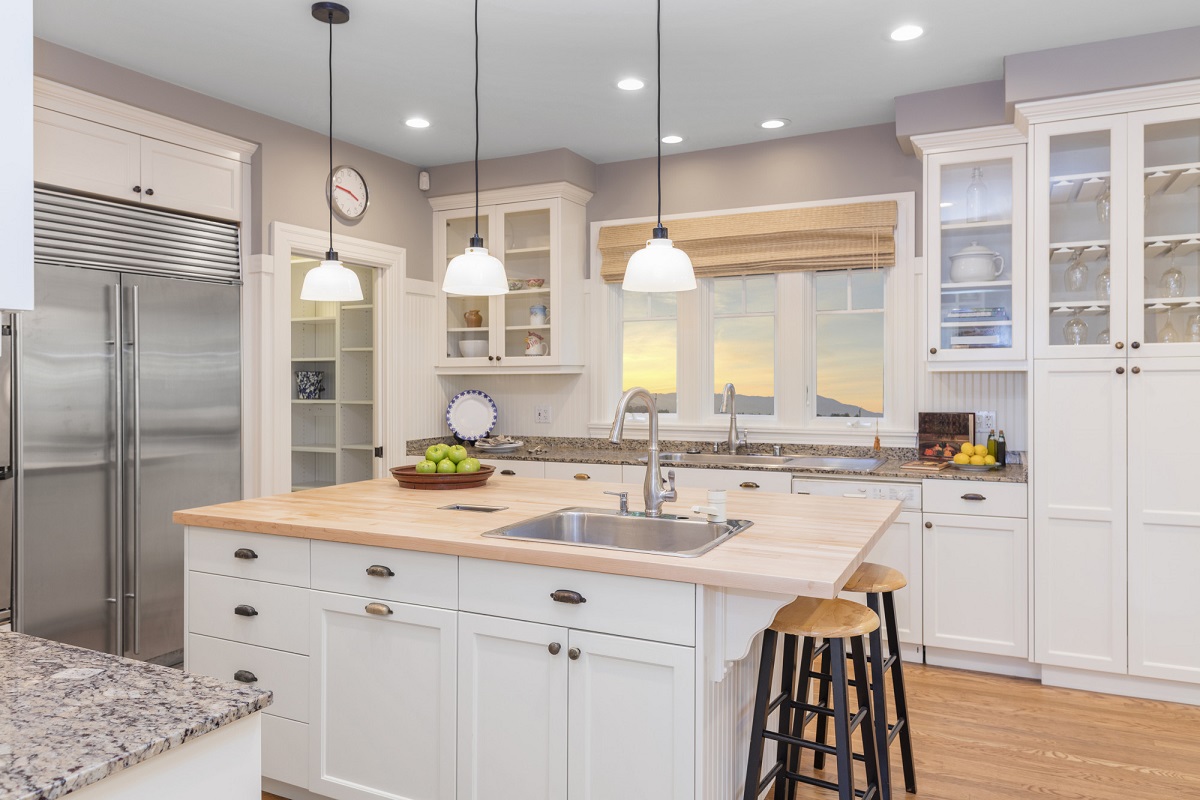 Uncategorized
The Latest Kitchen Design Trends That Will Be Everywhere in 2021
The average price of a kitchen renovation in the US is just over $20,000. That's a lot of money! You probably don't want to spend that amount again in five years because you chose outdated designs.
So if you're redecorating your kitchen in 2021, you want to choose all the best features and kitchen design trends to build the kitchen of your dreams.
There are some fantastic trends at the moment that will only become more popular over the next few years. Here's a list of the best picks!
Marble Countertops
Marble countertops are one of the most well-loved kitchen innovations of the last couple of years. And they show no signs of waning popularity.
They ooze with luxury and are practical too. Marble is hard-wearing, hides small spills, easy to clean, and is available in unlimited patterns and colors.
Homeowners love marble kitchen designs so much that they're not stopping at counters and are also opting for marble floors and islands.
If you decide to hop on the marble train, white is classic. But a pink or blue-hued marble shows a lot of personality. It could be the focal point of your new kitchen!
Glass Cabinets
There are so many types of kitchen cabinets, it's overwhelming. Some have hidden handles, you could have top and bottom cabinets, or you could have open shelves.
The "open shelf" trend is appealing, as it means all your kitchenware is easily accessible. But it's not practical for many kitchens, especially if you have a mounting Tupperware collection you'd rather not display to the world.
One of the best kitchen design trends is a compromise between open shelves and conventional cabinets: glass cabinets! They keep your kitchenware tidy and clean but allow you to see what you need.
Check out this article for more glass cabinet tips and how to organize them.
Rose Gold and Copper Hardware
Homeowners in 2021 are having much more fun with their kitchen hardware than ever before. Gone are the days where your choice of faucet options was stainless steel or brushed brass. And both are essentially just silver in color.
Embellish your kitchen with rose gold or copper faucets, cabinet handles, and food containers. They're on-trend, look gorgeous, and are inexpensive to switch out if you change your mind in a few years.
Fun hardware means you can play it "safe" with timeless design choices like white walls, oak countertops, and farmhouse range ovens.
Beautiful Organization
Minimalism, the KonMari Method, and The Home Edit are very hot right now. The world has gone organization-mad over the last couple of years and people love experimenting with aesthetically pleasing ways of tidying and arranging their stuff.
This has absolutely extended to kitchens!
If you want an up-to-date kitchen, you need to get organized. Decanting your dried foods like pasta, coffee, and rice into labeled mason jars and arranging them neatly in your cabinets is an affordable way to get started.
Storing appliances like microwaves, juicers, and air fryers on top of your counters is considered outdated. Try and make space for appliances in your cabinets and keep them out of the way.
If you can hook them up in your cabinets so you don't have to move them, even better!
Wall-to-Wall Tile
Tile kitchen designs are timeless for backsplashes. Most people can agree that there isn't a better material or way to add an attractive pattern to your kitchen. In fact, a lot of designers and homeowners love tile so much in 2021 that they aren't stopping at backsplashes!
Yes, the latest kitchen trend is to use tile to decorate entire walls from floor to ceiling.
You probably have tiles covering your bathroom walls, so why not your kitchen? Kitchens have to deal with much more mess than any other room in your house. Although white walls might look nice when they're freshly painted, they're soon covered in marks and splashes.
Tiles are practical, very easy to clean, and will make your new kitchen renovation last for years.
Smart Technology
It's not just kitchens that are getting smarter. Living rooms, bedrooms, and even bathrooms are being renovated with the latest tech.
Smart kitchen technology is more than investing in a tablet stand so you can reference a recipe you found online while you cook.
With a smart fridge, you can see inside your refrigerator with a live feed to your smartphone so you know what you need to buy while you're out. You can also list all the food in your fridge and its expiration dates so you'll be alerted when something needs to be eaten.
And with a smart oven, you can turn it on remotely so that casserole you left in before you went to work will be ready by the time you get home. The future is getting smarter, and kitchens are too!
Personal Touches
There are unwritten rules when it comes to home design that many stick to without question. Kitchens and bathrooms tend to be white or neutral colors and living room furniture needs to point at the TV. And for some reason, basements are always furnished with dark wood and black fabric.
Luckily, the latest kitchen design trends give you permission to throw everything you've learned about design out of the window and do what you want!
Many homeowners in 2021 are painting their kitchen islands orange or yellow for a pop of color. Some are hanging plants from the tops of their cabinets and on doors to create a natural, peaceful vibe. Check out Lovech where you can get customized doors on your kitchen.
So in 2021, it's time to do exactly what you want with your kitchen! Add a mirror, put out some candles, whatever you like.
Update Your Home With the Latest Kitchen Design Trends
These are just a few of the latest kitchen design trends that are practical, look beautiful, and will stay on-trend for years to come. You don't renovate your kitchen every year, so you want to make sure you design a kitchen you love.
Check out our other home improvement articles for more tips and advice!