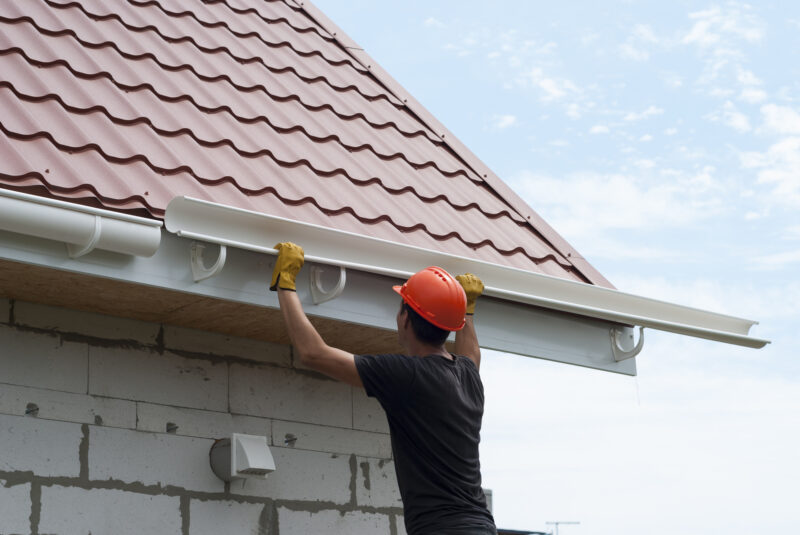 Lifestyle
How Much Does Gutter Installation Cost? A Guide for Homeowners
Gutters play the important role of moving water from rain and snow away from your home. When they are not functioning, your home's structure and foundation could be at risk.
If you need replacement or upgrades, you may be wondering "How much are gutters?" Residential gutters can run between $500 and several thousand dollars. That is a very wide range.
The good news is that there are only a few factors that impact gutter installation costs. Once you identify these, you can better determine a ballpark for what you can expect to pay. The information below lays out these factors, as well as some other information you need to know about installing gutters.
Types of Gutters
One of the main things that impact the costs of home gutters is the type you select. There are many different materials and configurations to choose from.
Material
Vinyl gutters are the most common type and the most economical. They are the least durable though, lasting only between 10 and 20 years.
Aluminum gutters are only a little more expensive than vinyl ones. These are very lightweight and resistant to rust but can be susceptible to bending or cracking if damaged. Aluminum gutters also have about a 20-year lifespan, although the downspouts can last much longer.
Galvanized steel gutters are much more durable and about the same price as aluminum ones. They are heavier though, which can drive up installation costs.
Copper and zinc gutters are the most expensive options available. They can run upwards of $40 per linear foot. You can expect to get 50 to 80 years of use out of them though.
Style
Sectional gutters are the most common type. They come in pre-cut segments that you piece together around the edge of your roof.
They are inexpensive, and you may be able to install them yourself. The downside is that the points where they join can weaken over time.
Seamless gutters involve measuring the dimensions of your home then folding the metal to fit perfectly. These are more expensive than sectional gutters and will demand professional installation.
You also can choose between U-shaped, K-style, and fascia-style gutters. U-shaped cutters are more traditional, but they do not hold as much water and need brackets to secure them. Both types cost around the same per linear foot.
Fascia-style gutters are custom-made and installed directly onto the roof framing. The advantage is that they prevent water from spilling over and damaging the structure. These types of gutters will be more expensive than U-shaped or K-style gutters.
Labor Costs
Labor costs for gutter installation will vary by region and contractor. If the work crew needs to remove and dispose of existing gutters, this will incur extra charges.
The sheer size of your house and the intricacies of your roof edge can impact labor costs. A reputable contractor should be able to estimate these costs for you during an inspection.
A lot of "discount" gutter companies only offer installation and nothing more. One way to cut costs of gutter installation is to go with a company, like https://saltlakeroofing.com/rain-gutters/, that can do roof repairs if needed. This ensures that whatever needs to be done for installation is accomplished by a single company, without having to halt a project midway through.
Learn More About Gutter Installation Near You
Now that you have an idea of what factors contribute to gutter installation costs, you can better budget for your home project. We hope you found this information helpful. If so, be sure to check out some of our other home improvement posts, as well as those on business, finance, health, and many other topics.