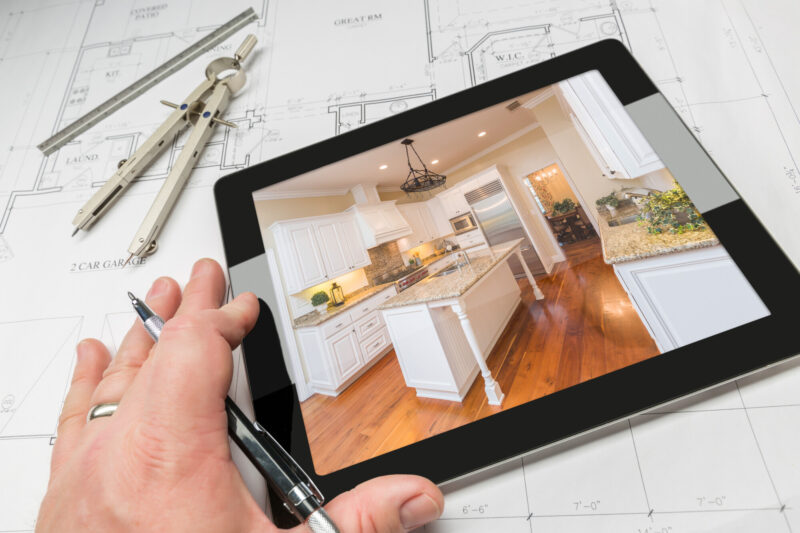 According to the latest cost-vs-value report, even a minor kitchen remodel can yield a considerable ROI when you sell your home.
A refurbished kitchen also adds convenience, functionality, and ease when entertaining. So, it's a good place to start if you're looking at sprucing up your home.
Check out these kitchen design tips that tick all the boxes when it comes to increasing the comfort, style, and value of your house.
1. Convenient Kitchen Designs
The layout is everything when figuring out how to design a kitchen that suits your needs. Make sure the distance and angles between important points make sense while you're busy in your kitchen.
Make sure it's easy to move from your cooker to your fridge, to the kitchen sink while preparing meals. It also helps to store items close to where you usually need them.
For instance, keep breakfast bowls and food near the breakfast nook, and store your flatware next to the dishwasher for convenient unloading.
2. Kitchen Design Tips for Traffic Flow
The best kitchen styles have plenty of room to maneuver between appliances and countertops.
Try to avoid creating a thoroughfare through your kitchen. You could end up spending all your time mopping up muddy footprints and experience frustrating interruptions while cooking.
Make sure your range is out of the path of busy children, who could knock pots off the top in passing.
Remember to plan for opening and closing your appliance and cabinet doors when designing your kitchen too.
3. Consider Convenient Heights
Try to place appliances, like your microwave, at a convenient height. This will depend on whether you allow your kids to use the microwave or not.
For an adults-only kitchen, you should place your microwave about 15 inches above the countertop. For easy kiddies' access, setting it up below the countertop is best.
4. Island Style
The location of your kitchen island's a major consideration when designing a kitchen. If you have a large kitchen, a centrally-located island works best, especially if you include a sink in its design.
For open-plan spaces, it often makes sense to add the kitchen island where the kitchen meets your living room.
5. Countertop Considerations
Replacing your kitchen countertops improves the appearance of all types of kitchens. You can opt for butcher block if you're worried about cost.
If you want full-on luxury appeal, go for marble or quartz. All kinds of natural stone create an attractive finish when used for countertops. Yet, there are some things to consider before using natural stone in your kitchen.
6. Include Landing Spaces
Landing areas provide space around appliances for buttering toast, taking items out of the refrigerator, or packing dirty dishes.
You need at least 15 inches of free countertop space on each side of often-used appliances. These include your cooktop, your refrigerator, and your coffee machine.
7. Colors Count in Home Kitchens
The days of all-white kitchens are a thing of the past. Pops of color add interest and energy to your kitchen. The best places to introduce contrasting colors are on your countertops, on a backsplash, or with a feature wall.
You don't need to go all out with vibrant hues either. If you prefer a mostly white kitchen, wood, metal, and brick provide interesting texture and natural contrast to a clean white design.
8. Pick Stylish Kitchen Cabinets
Like countertops, your kitchen cabinets take up a lot of visual space, so invest in the best ones you can afford. The main choices when it comes to cabinets are gloss or matt finishes.
Take the overall look into account when deciding on the best finish for your cabinets. Wood can create a wonderfully natural look that counteracts the otherwise sterile appearance of most kitchen surfaces.
It's best to use out-of-reach shelves and glass-fronted cabinets for showing off decorative items and keep the things you use often within easy reach.
9. Optimize Your Storage Space
Efficient storage is a top priority in any kitchen and adds value to your home. Some of the best storage options nowadays include:
Lazy Susans
Under counter slide-outs
Pot drawers
Open shelving
Placing your pot drawers and cooking utensils close to your cooker makes good sense, and your bin belongs next to the sink.
10. Eating Areas Must Make Sense
If you have a kitchen table for dining, place it well out of the way of your food preparation areas. Likewise, place any under-counter stools so that the backs face away from your kitchen.
Trying to dish up and clear up around bodes in chairs is not only inconvenient, but you could burn somebody or drop something in the process.
If you use a part of your kitchen for working from home or homework, the same applies. The last thing you need is a spill on your kids' books or your work laptop.
11. Formal Kitchen Layouts
One of the best ways to maximize your kitchen design is by using one of the conventional kitchen layouts. These are:
Galley Style
This design suits narrow kitchens and features appliances and work areas on the long sides. This shape kitchen has a wide walkway in the middle for convenient access.
U-Shape and L-Shape
A U-shaped kitchen is like half a galley kitchen, with a dining area on the open end. This is a good way to keep dining and cooking areas separate and works well for square-shaped areas.
An L-shape kitchen takes things further with an extra open end, and all your main kitchen features on one long and one short wall.
Getting Started Designing Your Ideal Kitchen
The best place to start when revamping your kitchen is by listing all the things you dislike about the current design. Then, you can work on the situation with a designer, or by finding your own ideas for improvements.
Magazines, home improvement reality shows, and websites are great places to find inspiration for your dream kitchen.
We can help. Explore our blog for more kitchen design tips as well as a wide range of other topics related to home design.